All parts listed in catalogue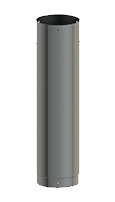 Length (LL4; LL3; LL2; LL1)
EXCELiner is available in 4', 3', 2' and 1' lengths. EXCELiner components fasten together with 100% stainless steel pop rivets wich are supplied with the liner. The holes and slots for the rivets are factory pre-punched so no drilling is required. The male and female ends are hemmed to make the liner more rigid and reduce the likelihood of cutting yourself during installation.

Slip Length (LLA3; LLA1)
Slip lengths are available in 3' and 1' lengths. Slip lengths are used to adjust the length of the system without cutting. Note: Slip lengths must be installed above a fixed length or they will not adjust. They should not be installed immediately above a support, tee or elbow.
Split Base Tee (LT)
The flange for the tee mouth is formed into the vertical tee body to provide a strong connection while minimizing projection to facilitate installation in tight flues. The tee mouth fastens to the body with heavy duty stainless steel screws which install through the inside of the mouth.