The Pearl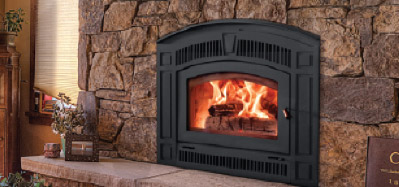 The Pearl is crafted with the perfect combination of refined, yet rustic styling. Advanced wood burning technology restricts smoky emissions and maximizes heat efficiency. Capable of heating 1,500 square feet, the Pearl can be outfitted with an optional Heat Dump blower to ensure your comfort. Unlike a wood stove, excess heat from the fireplace can be drawn to the basement or an adjacent room with the flick of a switch.
2.1 cubic foot firebox
Heats up to 1500 square feet
Takes 16" logs
EPA Phase II certified
Realistic firebrick lining
This fireplace is certified for use with 7″ ICC Model EXCEL chimney only.
The Delta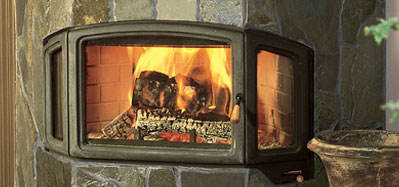 Its big beautiful bay window is unique
With a huge firebox and an immense viewing area, the Delta 2 is the largest member of the RSF fireplace family. The bay window design lets you experience the warming glow of that big, beautiful fire in every corner of the room… and from every angle.
If you want to feel the heat throughout your whole home, the Delta 2 incorporates all of the ducting options RSF has to offer. Send that heat to different zones in your home, duct it into the furnace plenum for distribution through your central heating system's ductwork, or duct it into an adjoining space. Whether you choose to heat one room or your whole house, the Delta 2 fireplace provides the horsepower you need to do the job.
Heat, warmth and beauty… what more could you ask for in a fireplace?
Large 4.4 cubic foot firebox that easily holds 24" logs.
The optional firescreen enables the Delta 2 to be burned with the glass door open when you want to enjoy the radiant warmth and crackle of a real wood fire.
Beautifully sculptured, hand made firebrick lining.
Tested by a certified EPA facility to burn as clean as an EPA Phase II wood heater at 3.8 grams per hour.
This fireplace is certified for use with 8″ ICC Model EXCEL chimney only.
The Focus 320
Contemporary design and impressive heat output
The Focus 320 burns with a unique flame that is utterly mesmerizing and the contemporary style door offers the largest viewing space possible. The Focus 320 produces enough heat for the average house, burns overnight, and has low emissions. In addition, the RSF Central Heating Options are compatible, which allows the heat to be spread uniformly throughout the home.
See how RSF performance can be enhanced with the central heating capabilities and the heat distribution options.
Large 2.6 cubic foot firebox.
EPA Phase II certified.
Molded firebrick lining.
Mobile home approved.
Takes 22" logs.
Can be installed into a masonry chimney using an RSF adapter and a UL/ULC listed stainless steel chimney liner.
Can be connected to a central heating system.
This fireplace is certified for use with 7″ ICC Model EXCEL chimney only.
The Opel 3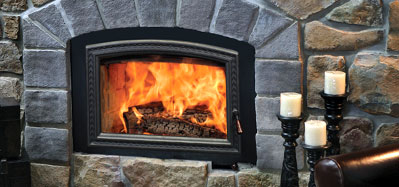 Uniquely designed single door
Behind the elegantly shaped door of the Opel3 burns a fire that reflects the traditions of our ancestors. Yet this is no ordinary fire.
This fire yields low emissions, overnight burns, and efficiency on par with most basement furnaces.
The patented technologies used in the Opel3 give you the peace of mind that your fireplace burns a renewable energy source in a beautiful and environmentally responsible way.
This fireplace is certified for use with 7″ ICC Model EXCEL chimney only.