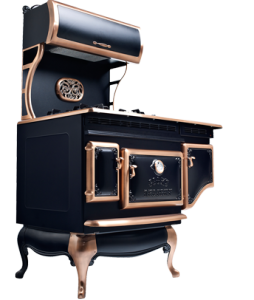 The ultimate in customization… each Elmira Stove Works appliance is custom crafted to your request. Choose the model, color, options and accents that suit your personal style and your cooking style. Our ranges offer several hundred combinations of styles, colors and features, and will truly be the focal point and center piece of your kitchen.
The latest advance in the way things used to be…
The Fireview is a high-efficiency, air-tight woodburning cookstove that is perfect for home, cottage or camp. It serves as a high-output room heater, a cooking appliance, an attractive fire-viewing woodstove and, with an optional water jacket, a source of hot water… all using a renewable resource. For even more cooking versatility, add the optional side gas burners.
Fireview woodburning cookstoves… efficiency and styling you can really warm up to!
Fireview
Online PDF's:
Pricing
Catalogs