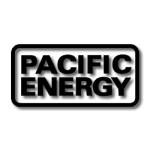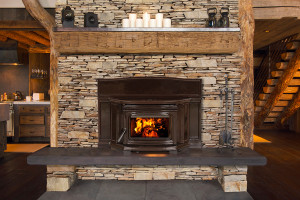 Alderlea T5 Classic Insert
All the features of the cast iron T5 insert—plus the added beauty and charm of lustrous porcelain enamel. Choose from Majolica, Ebony or Antiques White finishes to create a striking centerpiece that provides long-lasting, clean-burning heat.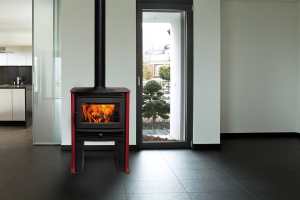 NEO 2.5
offers elegant, modern lines and a practical tall profile design with a larger firebox and higher heat output. With no-stoop loading, a large glass door, and simplified air control, the NEO 2.5 is a practical wood stove with Pacific Energy's clean-burning technology that reduces emissions while maximizing burn length and fuel efficiency. It includes all the features and convenience of the NEO 1.6, including optional porcelain side panels in dramatic colors, and the ability to use the top as a cook stove. Installation is simplified with leveling legs for uneven surfaces.
The Spectrum Classic
featuring the proven Super Series firebox, delivers easy-to-light, easy-to-load clean-burning performance, elegantly clad in a choice of eight colors of rich porcelain enamel and a selection of leg and door finishes to fit any décor.
Choices
Arched or Radiant door – available in Gold, Nickel, Brushed Nickel or Metallic Black
Cast Iron Trivet available in Gold, Nickel, or Metallic Black
Legs available in Gold, Nickel, Brushed Nickel or Metallic Black
Choose from one of eight rich and durable porcelain enamel colours
Options
Temperature actuated 125 cfm variable speed blower
Outside Air Adapter
Screen Door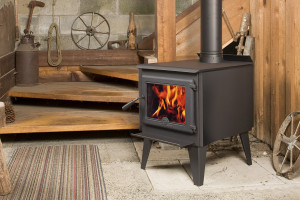 True North
The TN20 features entry-level tubes as part of the combustion system, offering a cost effective solution for the price-minded wood burner. Constructed with standard 10-guage steel, the TN20 features a gasketed cast iron door, clean glass airwash, and high efficiency. Available with legs or a pedestal base, the TN20 offers an exceptional cost to performance ratio.
Technical information
Heat Output Cord Wood (BTU) 62,000 BTU
Heat Output EPA (BTU) up to 29,000 BTU
Efficiency 80.8 %
Emissions 2.1 gm/hr.
Firebox Size 2.0 cu.ft.
Log Size (recommended)16 in.
Log Size (max.) 18 in.
Standard Features
Reliable, durable non-catalytic technology
Tube Combustion System
Air wash system for super clean ceramic glass
Inside and outside combustion air capable
Boost Air
Heavy plate-steel top
Mobile home approved
Single-Lever Air Control
EPA Certified
Cast iron door
Design options
Choice of Metallic Black Legs or Pedestal Base
Performance options
60 cfm temperature actuated variable speed blower